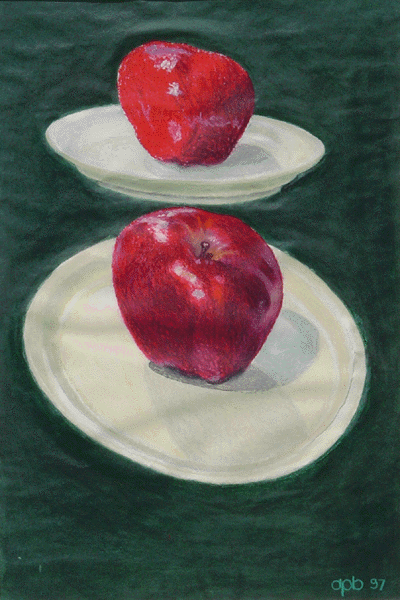 Apples
Oil Pastel Painted when I lived in Portland, at Cyoakha's art gallery on a piece of foam on the floor under an ancient skylight. I built my own easel out of a couple of two-by-fours, and then went to Safeway on Tenth Street specifically to buy that apple so I could paint it. I still have a re-occurring dream of walking down that street.
By artist, Anthony Boughen

Artwork © Anthony Boughen. All rights reserved.

An oil pastel painting by artist, Anthony Boughen of a mirrior image of an apple on a white plate. Oil pastel painting, pastel painting of an apple, apples oil pastels, white oil pastels, plate of apple, apple plate, artist anthony boughen, art by anthony boughen, image of apples painting of apples, apples oil pastels, Apples by Anthony Boughen, Oil Pastel by Anthony Boughen,

Apples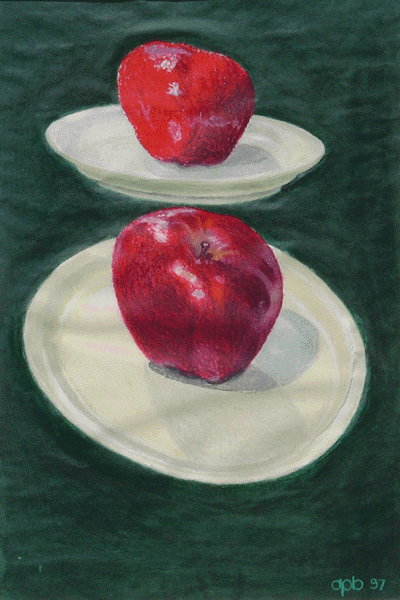 $ 85.00 USD
The Original
Medium: Oil Pastels and Ink
Dimensions: 18" x 24"
Framed: n/a