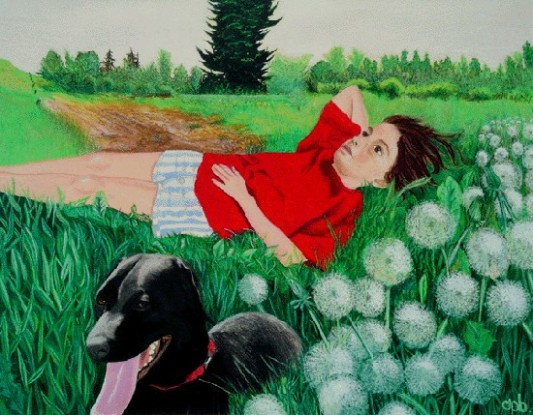 Heaven
My Daughter At Age 12 and our beloved Star. This where Melisa spent her summer holidays, at grandpa's farm. I gave this painting to Melisa's mother. Later she gave it to Melisa.
Oil Pastel Painting
By Anthony Boughen

An oil pastel painting by artist, Anthony Boughen of his daughter looking up at heaven from the grass with the family dog. Anthony Boughens daughter, Anthony Boughen daughter, daughter of Anthony Boughen, Oil pastel painting, Portrat painting, portrait of anthony boughens daughter, daughter and dog, heaven oil pastel painting,grass painting, grass oil pastel painting, boughen grass, boughen dog, boughen family, boughen painting, artist boughen, daugher boughen, heaven dog, pastel dog, oil paste dog, dog artist,

Original Painting
Subject: Daughter

Medium: Oil Pastels
Dimensions: 20" x 24"
Privately owned.